Yvonne Mullock graduated from the Glasgow School of Art with a B.A (Hons) Drawing and Painting in 2001. Mullock's work is renowned for incorporating the handmade, the erotic, the animalistic, the comedic and the vulgar. On this basis, she's not most people's choice as a wedding dress designer.
Whilst Mullock now resides in Calgary, Alberta, Canada where her art work is exhibited widely, in 2009 Mullock was still living in Glasgow and slowly gaining her reputation in the artworld with a handful of solo art exhibitions under her belt, and submissions to several group exhibitions thanks to the support and awards from the Scottish Arts Council. It was at this time that Yvonne Mullock was commissioned by Scottish bride to be Laura to create a wedding dress.
Laura's Wedding Dress by Yvonne Mullock
Laura had found an original 1940s Vogue wedding dress in Sartoga Trunk, the largest vintage clothes shop in Glasgow that supplies the film industry, theatre and the public with clothes in styles from the eighteenth century right through to the 1990s. The wedding dress by Yvonne Mullock was a copy of an original 1940s dress that Laura had found there.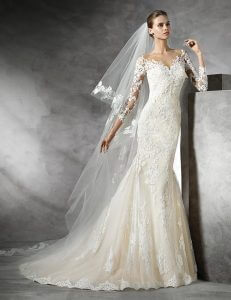 Laura and Dave had arranged a simple city hall wedding in Strathlachlan, Argyll, Scotland. The sweet simplicity of the whole affair was set off by the dress that Yvonne Mullock created for the bride. Laura's original dress was too short, which is why she commissioned the stunning 1940's style column dress from Mullock. The full sleeved silk wedding dress that Laura pulled off with such style, looks elegant and demure.
Yvonne Mullock's amazing wedding dress included the original clawstuds and diamantes from the original dress. The front of the dress is simple, with diamantes around the neckline. The back of the dress had a cute bow at the back and five cloth covered buttons going from nape to waist.
A modern touch to Laura's outfit were her shoes, a lovely pair of suede orange heels from Dune. Milliner William Chambers created Laura's beautiful headpiece of a silver butterfly bow made from netting with a Swarzkovski crystal at it's heart which stood out on her uncomplicated hairstyle. Her bouquet was strikingly simple, created using flowers in season including daffodils.
Chic perfection
Yvonne Mullock's wedding dress was chic and simple, perfect for a registry office wedding. Laura's bridal outfit created a timeless vibe being a little bit vintage, yet classically cool. Breaking the mould by not following trends, Laura and Dave's wedding photographs will look as beautiful on their twentieth wedding anniversary as they did on the day. And that's the true success of a wedding dress.
With weddings costing as much as you would put down a deposit on a house, Laura and Dave's simple wedding cost far less. This made their wedding a relaxed and fun occasion with an intimate feel. With the bride's dress enhancing Laura's natural beauty Yvonne Mullock helped create their perfect wedding.